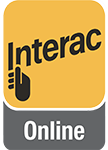 INTERACTM Online the first internet-based consumer-initiated transaction service. Directly debiting the consumers' bank account to pay their vender of choice. Not mobile optimized and mainly used through local credit unions.
INTERACTM e-Transfer the most popular solution, it works as an internet consumer-initiated transaction transfer of cash over email or SMS. It is supported by 100% of Canadian financial institutions.
INTERACTM Request Money the newest product is an easier consumer-initiated transaction method where the vendor requests the funds required and the consumer accepts the request.